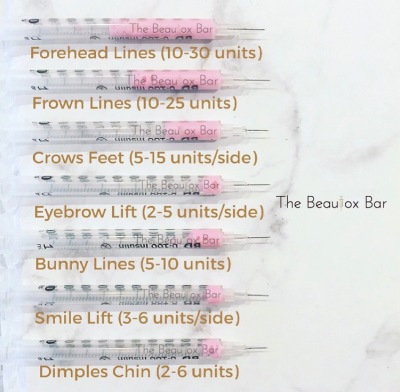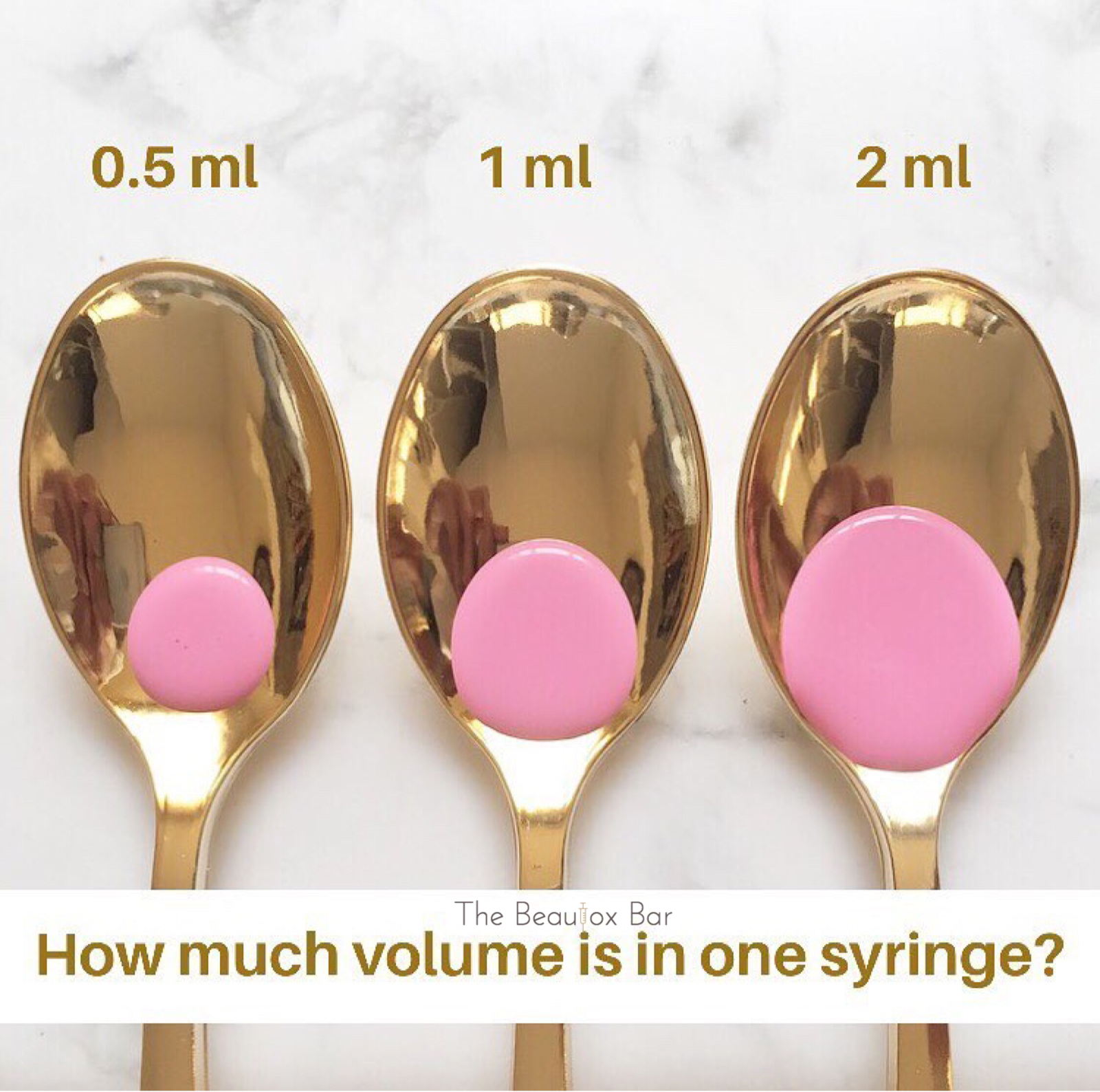 The right amount matters//
Dysport, the alternative to Botox, is the most effective treatment to treat fine lines and wrinkles.
Dynamic wrinkles may appear when making facial expressions. Therefore, it is best done as a preventative measure before fine lines and wrinkles become static (present when face is relaxed). Fine dynamic wrinkles may also be treated, though it may take longer to see desired results.
Dysport temporarily relaxes muscles, in these areas, for 4-6 months. 
As you can see a small amount goes a long way!
Ever wonder how much dermal filler is in one syringe? 
One syringe contains 1 ml of product. 
Dermal fillers add volume under the skin to plump, contour, hydrate and improve the appearance of aging-- in the lips, under eyes, cheeks, chin/jaw and deep lines.

 Results are immediate, with moderate redness, swelling
and bruising; and last 6-9 months to a year. 
An option is to start with a smaller amount-half a syringe, 0.5 ml.

For those filler virgins worried about the right amount--Hopefully this visual puts you at ease! 
​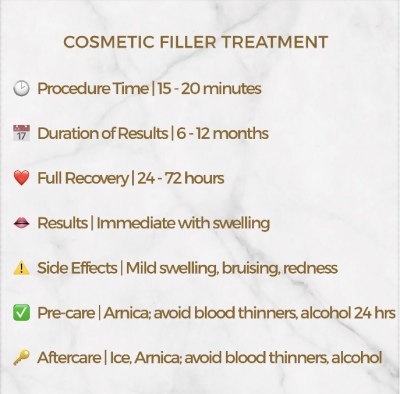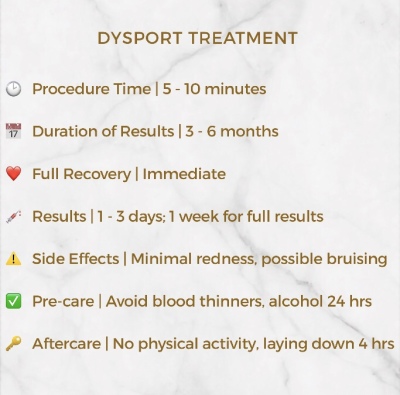 Dysport Treatment//
Dysport is an anti-wrinkle treatment (the more effective alternative to Botox); it temporarily relaxes facial
muscles to reduce fine lines

and wrinkles. Results are seen within 1-3 days to a week 

and last 4-6 months.


The most common treatment areas are forehead, frown lines (11's), crows feet. Other treatment areas include bunny lines, smile lift (turns the corner of the mouth upwards), chin dimples and gummy smile. 

You may have slight redness making the downtime minimal -- return to work, go for dinner. Just avoid working out, sun/heat exposure, alcohol (due to brusing) and most importantly no lying down for at least 4 hours. 

Full results are seen at one week and last 4-6 months. 
​
Teosyal, cosmetic filler is made of non-animal origin, resorbable and biodegradabel hyaluronic acid. Hyaluronic acid occurs naturally in our skin, it acts like a sponge and retains large quantities of water to keep the skin plumped and soft. 

Cosmetic Filler adds volume under the skin to plump, contour and hydrate. Treat your lips, under eyes, cheeks, deep lines, jaw/chin and skin.

Numbing cream may be applied, most often to lips. The procedure takes approximately 20 minutes; and results are seen immediately. 
You may have mild swelling, bruising and redness for a few days, the swelling is typically worse after 24 hours- remember to ice, ice, ice! 
Lip filler lasts approximately 6 months. 

Under eyes, cheeks, chin/jaw last 9-12 months.
​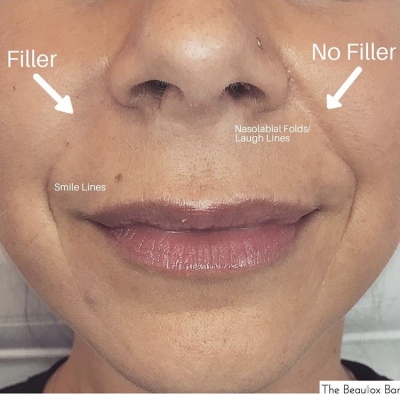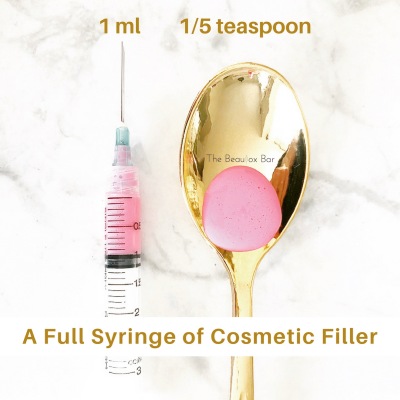 Say goodbye to deep, unwanted lines. Dermal filler is used to fill these deep creases to make them less defined. The filler is carefully placed under and along the line and will not move from this area. Depending on how deep and prominent the lines are anywhere from half to multiple syringes may be used to create the desired look. 
This filler may also be used in other treatment areas to fill deep lines, such as 11's (in between eyebrows), marionette lines and smile lines. 


Filler in this area lasts 6 months to a year. 
One syringe of Cosmetic Filler is 1 ml, which is only equivalent to 1/5 of a teaspoon. Volume needs to be built up over a number of treatments, to acheive desired results. 

M
ost people like the swelling after lip filler and return for a top once the swelling goes down a few days post treatment. Treatments may be done every few months to maintain your perfect pout.
Filler (Hyaluronic Acid) lasts 6 - 12 months and naturally dissapates from the skin.

Lip filler | 6-9 months
Under eye filler | 12 months

Smile Lines and Deep Lines | 9-12 months
Cheeks, chin, jaw | 12 months
​​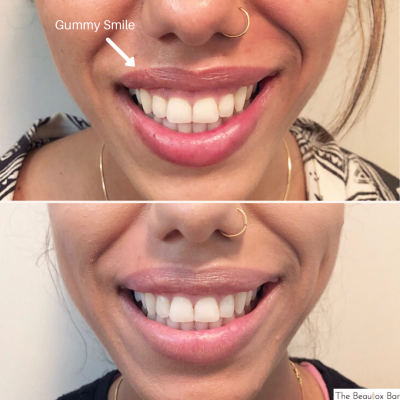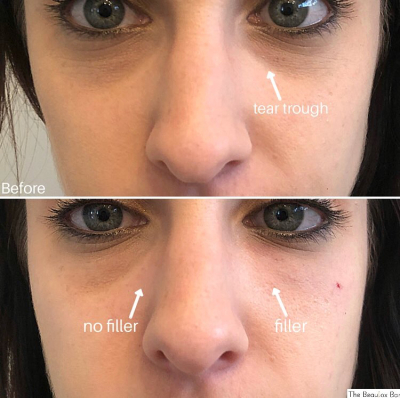 Small amounts of Dysport are carefully injected to weaken the muscles that lift the upper lip when smiling, causing less gum to be seen.
 This treatment can be done with a lip flip and cosmetic filler to enhance your smile. 
A total of 6-8 units are injected; results last 4-6 months.
Want to get rid of those dark, tired looking under eyes? 
One syringe of filler will improve the look of tired eyes.

Minimal pain, short procedure, immediate long lasting results (9-12 months).

One full syringe is split between both under eyes.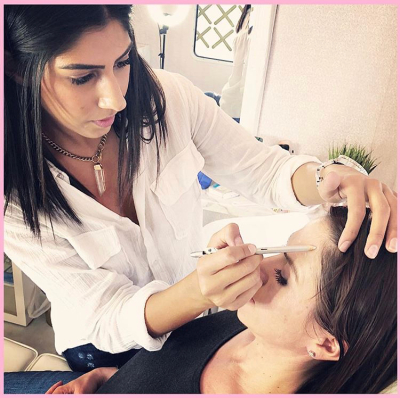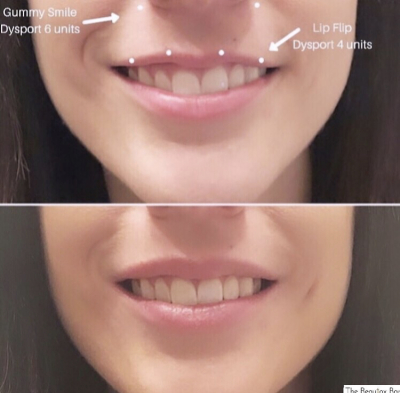 Anti-wrinkle Injections//
Dysport (the alternative to Botox) reduces and prevents wrinkles. 
The amount is measured in 'units' and arefully mapped out in each area (forehead, frown lines-11s, crowsfeet, etc). Units are not equal to needle pokes. Each area only requires a few pokes, with a very small needle - less than a cm long!

This treatment takes less than a minute and lasts 4-6 months! 


All worth it for smooth, wrinkle free skin!

Dysport can help with a gummy smile- it relaxes the top lip to decrease the amount of gum shown while smiling.
A lip flip creates the illusion of fuller lips, by slightly flipping the lip up and preventing the lip from thinning when smiling. The lip flip may be done in combination with lip filler.

Ask about your options and love your smile!